This past May Doug Ballard traveled back to the Academy.  Doug to be inducted into the Board of Directors for the Alumni Association and me to represent the Chapter at the International Chapter Officer's Forum (an annual meeting of Chapter presidents).  We gathered lots of information about the ongoing activities and challenges at the Academy and Foundation.  I will be sharing these with you at next Wednesday's meeting.  As you know Doug is a trustee because our chapter was chosen as one of the "other" trustee chapter.  At the Trustee Meeting we also learned that we have been selected as a DINSTINGUISHED CHAPTER.  Of the 100 chapters four were chosen.  This is a real honor for which you all should be proud.  The criteria used for the selection was:
The Distinguished Chapter selection process follows the same selection criteria as the process used every three years to select the "Other Chapters" represented on the Alumni Association Board of Trustees (available in the Board of Trustees Operations Manual: Appendix A). Chapters applying for Distinguished Chapter recognition are evaluated on the engagement, activity and planning of their leadership teams; frequency and variety of communications with constituents; development and execution of events promoting the Naval Academy mission and message; collaboration with other Naval Academy-related organizations and affiliated groups; and membership growth. Distinguished Parent Clubs are evaluated on similar criteria with slightly different weighting: greater emphasis is placed on support for the Academy than the construction and activity of the leadership team, for example. 
The Award will be on display at our gatherings.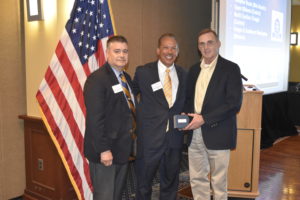 The June meeting will also represent the last time that John and Brenda Morris will be with us.  John and Brenda are relocating back to Maryland to be close to family.  John can also make use of his season tickets for Navy football.  As soon as we get their address we will make it available, so everyone will know of a place to visit when we go back to the Academy.
Plans are being put into place for our August Chapter Picnic.  The picnic will be held at a new location, the "Rose Arbor" on the Columbia River in the Port of Camas/Washougal. the Date Aug 4th Time 1200 to 4PM.  Many thanks to Susan Mead and Ray Kutch for their tireless efforts in setting this up.  A special thanks to Ray for donating the rental fee for the park.  Some specifics for the picnic are:
"My Friends & I" will be the caterer. The price will be $20 per adult, $10 for children 8-12 years and free for children under 8.  Council decided to cap any family cost at $60.  The caterer will provide Lemonade at no cost and will provide a server for alcoholic beverages.  Attendees may bring wine or beer if they desire but it will be given to the caterer for distribution.  People may also bring other non-alcoholic beverages.  People are encouraged to bring deserts
Payment will be made by the attendee prior to the event.  (This is important as we need to be able to give the caterer a fairly accurate head count).  To assist we are setting up for people to be able to pay on line using pay pal. People can also pay by cash/check. Payment will be refunded if the individual lets us know ahead of time that they will not attend.
The Picnic should be a fun get together at a kid friendly park with a wonderful view.  Please contact any alumni in the area who is either not active or is working and cannot usually attend our monthly events.
Mike Carmichael CDR USN Ret.