Events, News & More
Strong For Veterans
Posted: 11/4/2018
STRONG FOR VETERANS is excited to host our Program on Coming Home on 14 November at the Oregon Historical Society. We will also host a Veterans Town Hall (see below), a Closed session for Veterans only to share their stories. Please help spread the word.
STRONG FOR VETERANS Program on Coming Home
* 14 November 2018 – Oregon Historical Society, 1200 SW Park Ave, Portland, OR 97205
* 5:30 p.m. – Reception
* 7:00 p.m. – Program
* 9:00 p.m. – Wrap up
PRESENTATION SPEAKERS
* Former POW Lieutenant Colonel Tony Marshall, USAF, Retired – Tony Marshall was born in Washington, DC in 1946, and raised on a tobacco farm in nearby Maryland. He was accepted by the US Air Force Academy, graduating in 1968 with a Bachelor's Degree in Mathematics. He completed Navigator training and Electronic Warfare Training and was assigned to the F-4 fighter aircraft. Following training at MacDill AFB, Florida, he was assigned to the 13th Squadron, Udorn Airbase, Thailand, flying combat missions in Southeast Asia. On his 266th mission he was forced to eject over enemy territory and was captured. A Captain at the time, Tony was held as a POW from July 3, 1972 until his release on March 29, 1973. Upon his return to active duty, Captain Marshall completed pilot training and was assigned to the F-4C at George AFB, California. He flew the F-4D at RAF Bentwaters, England, and then served as an Air Liaison Officer with the US Army in Frankfurt, Germany. He returned to the cockpit flying the F-4G Wild Weasel at Clark AB, The Philippines and George AFB, California. After 22 years of service he retired as a Lieutenant Colonel, Command Pilot, with 480 hours of combat time, 3000 hours in the F-4, and 3600 hours total military flying time. His military awards include 4 Distinguished Flying Crosses, the Purple Heart, the Prisoner of War Medal, the Meritorious Service Medal, and 16 Air Medals. Following his retirement from active duty in 1990, Tony was hired by United Airlines and logged 12,000 hours flying the DC10, B747, and A320 aircraft out of Los Angeles. He retired from United in December 2006. Tony is a member of the Organization of Black Aerospace Professionals (OBAP) and a member of the Los Angeles Chapter of Tuskegee Airmen Inc. (TAI).
* Grant Coffey – Gold Star Dad, Father of Keaton Coffey. Marine Cpl. Keaton G. Coffey, 22, of Boring, Oregon was assigned to 1st Law Enforcement Battalion, 1st Marine Headquarters Group, Marine Expeditionary Force, Camp Pendleton, California. He died May 24, 2012 in Helmand province, Afghanistan, while conducting combat operations. Grant Coffey, a retired Portland Fire Battalion Chief and longtime coordinator of the Hazardous Materials Team, is honored to serve as President of Tribute to Honor, a 501(c)(3) non-profit established in 2001 right after the 9/11 New York tragedy and expanded in 2017 to include US Military and their families.
VETERANS TOWN HALL
Taking inspiration from Sebastian Junger's TRIBE:  On Homecoming and Belonging, SFV is excited to host a Veterans Town Hall as part of our evening programs. This is a closed event for Veterans to share their stories with the Veteran community. Both Tony Marshall and Grant Coffey will attend. Light refreshments will be served.
*14 Nov – Oregon Historical Society Hatfield Room – 1500-1800
*Veterans only
*No photos
*No recordings
*No sharing Veterans' stories outside the room
*No exceptions
Details at http://strongforveterans.org/
November President's Update
First a few words about our upcoming meetings in November and December.
The November meeting will be 11:30 to 1:00 at the Old Spaghetti Warehouse on November 14th.  This meeting celebrates the November 10 birthday of the US Marine Corps.  We will have a cake to celebrate.  If you are a Marine, please make a special effort to join us.  If you have a friend who is/was a marine, plan on bringing them.
Also, at our luncheon in November we will be honored to have Sara Carlson, daughter of Ed Carlson USNA '66 and Tony Marshall, former POW and USAFA '68. They are in town for the "Strong For Veterans" program the evening of November 14th.
The December meeting will be 11:30 at the Old Spaghetti Warehouse on December 12th.  At this meeting we honor the Greatest Generation.  As the number of WWII vets is rapidly diminishing we are expanding the meeting to honor both WWII and the Korean Conflict Vets.  If you have a friend/relative who was in either of these conflicts, please bring them to our lunch.
For both meeting we are encouraging all of you to bring a toy to support the Marine Corps Toys for Tots program.
While the football season has been a bit of a disappointment to date, I predict a stunning upset of Army December 9th.  Plan on joining us at Big Al's to watch and celebrate the victory.
For those of you that missed the opportunity of serving in the submarine force, there is a recent movie release called Hunter Killer.  Tim Myers recommends.
Lastly the Alumni Association and Foundation is kicking of a major fundraising event this month titled "Called to Serve Daring to Lead".  Doug Ballard and I will be attending a kickoff meeting in Annapolis November 8th and 9th.  We will give an update at our meeting on the 14th.
We are starting to plan for next year's August Chapter picnic.  If anyone has any ideas or would like to assist in the planning and execution, please let me know.  We are tentatively planning on having it at the same location as this year.
Remember, Chapter Challenge Coins can be the perfect Christmas gift.  See Frank Swientek.
We are still in need of a chapter Secretary.
Mike
Bear Army
October President's Update
Posted: 10/3/2018
Our October meeting will be an evening affair which gives the opportunity for those who work that cannot normally attend our monthly lunch meeting to come out and enjoy a pleasant dinner with alumni.  The cost is $25 per person.  We will celebrate the USNA and US Navy birthdays.  There is no formal program, just a nice social gathering.  Please come and bring spouses, significant others.
The USNA Foundation is kicking off a major promotional and fundraising campaign later this year.  I will be attending a kickoff in November so will be able to give you more details in December.
Frank Swientek tells me we have lots of Challenge Coins available.  If you do not have one, they are available at each meeting.  A real bargain at $10 or 3 for $25.  For Parents Club members, they are perfect Graduation gifts and introduction to the alumni association.
The Chapter is still in need of a secretary, we are now entering our second year without one.  It would be nice if someone would step up.  Additionally, we have several council members terms expiring next Spring.  Being on council is a nice way to stay involved in the Alumni Association and contribute to the success of the great institution we all attended.
Football season is in full swing, and we have several games that we are setting up to watch as a group.  Notre Dame will be Oct 27 and we will watch with the ND alumni at Paddies and finally Army Navy will be 12/8 once again at Big Als.
September President's Update
Posted: 9/5/2018
First of all, I cannot think of a time when I was more proud to be a graduate of the US Naval Academy, than while watching the funeral service for Senator John McCain.  It is such a honor to have him as s distinguished graduate of our school.
Secondly, thanks to everyone who attended our picnic last month. You all made it a success.  If you did not make it, put down the first weekend in August for 2019, it will be better.  While not nearly as nice as the Jack and Butch show for so many years, it clearly exceeded my expectations.  Thanks again to Susan, Ray and Ted for all the hard work and planning.
September meeting should be a good start to the year.  Two folks from the Naval Institute will be there to let us know what is going on at the Institute (and probably let us know how we can assist them financially).  They are:  Wendy Taylor, gift officer and former Portland resident, and CDR Ward Carroll Ret. USNA 82, outreach officer.  It is not often we get folks from Annapolis back to visit so please make an effort to attend.
September we will also have a special guest.  Margie Grant, whose father William Grant, USNA 47 passed away last year, will be our guest.  She has several USNA Tee shirts that she had given to her father (says he never wore them) and would like us to take custody of them in anticipation of passing them on to future midshipmen or graduates.
The Chapter is still in need of a secretary, we are now entering our second year without one.  It would be nice if someone would step up.
Football season is starting, and we have several games that we are setting up to watch as a group.  The Air Force game is Oct 6 and we will be at Big Als.  Notre Dame will be Oct 27 and we will watch with the ND alumni at Paddies and finally Army Navy will be 12/8 once again at Big Als.
Before we witness Navy's VICTORY over Air Force on Saturday October 6th , please join us at 1000 @ Doug Bomarito's law offices for our semi-annual Council meeting.
Just a reminder that we will meet Wednesday October 10th at 1830 vice 1130 at the Old Spaghetti Factory, to celebrate both our Navy's and USNA's birthdays.
Need a Chapter Challenge Coin?  See Frank Swientek — $10 for one or much better, $25 for three. Remember, we have three games to display our pride  and the Holidays are only less than 120 days away.
Lastly, would like to give a special thanks to our Trustee, Doug Ballard.  Doug was single handedly responsible for both our being selected as a trustee chapter as well as being chosen at the Region 4 Distinguished Chapter.  Few know of the work and dedication that Doug put forth while chapter President.
Mike
July President's Update
Posted: 7/4/2018
There is no program planned for the July meeting.  Just a nice lunch with some sea stories.  If anyone has a book they would like to review with the group just let me know.  The last several meetings have been a bit ragged with the food service at the Spaghetti Warehouse.  I will be discussing with them how we can move things along better.  It is important that we finish to allow those who work to be able to get out by 1PM.
The Chapter picnic will be held August 4th.  Some details
The Picnic will be 12 to 4 at Parker's Landing Historical Park-Rose Arbor Camas/Washougal.
Price $20 per person, 10 for children 8-12 and free for children under 8 (max $60 per family)
Meal will be catered and drinks (Beer/Wine/ soda/lemonade will be provided (This is new}
The location is a lovely family friendly park so alumni with children or grandkids should come and enjoy.
Payment will be made by the attendee prior to the event.  (This is important as we need to be able to give the caterer a fairly accurate head count).
To assist we have set up paypal (paypal.me/USNAORSWWAAA).
People can also pay by cash/check:
Check made out to USNA Alumni Association OR SW WA Chapter, send to:
Ted Scypinski
The Picnic should be a fun get together at a kid friendly park with a wonderful view.  Please contact any alumni in the area who is either not active or is working and cannot usually attend our monthly events.
There are some upcoming Navy Football events posted on our website.  Specifically trips to games in Hawaii and San Diego.
Mike Carmichael CDR USN Ret.
June President's Update
Posted: 6/7/2018
This past May Doug Ballard traveled back to the Academy.  Doug to be inducted into the Board of Directors for the Alumni Association and me to represent the Chapter at the International Chapter Officer's Forum (an annual meeting of Chapter presidents).  We gathered lots of information about the ongoing activities and challenges at the Academy and Foundation.  I will be sharing these with you at next Wednesday's meeting.  As you know Doug is a trustee because our chapter was chosen as one of the "other" trustee chapter.  At the Trustee Meeting we also learned that we have been selected as a DINSTINGUISHED CHAPTER.  Of the 100 chapters four were chosen.  This is a real honor for which you all should be proud.  The criteria used for the selection was:
The Distinguished Chapter selection process follows the same selection criteria as the process used every three years to select the "Other Chapters" represented on the Alumni Association Board of Trustees (available in the Board of Trustees Operations Manual: Appendix A). Chapters applying for Distinguished Chapter recognition are evaluated on the engagement, activity and planning of their leadership teams; frequency and variety of communications with constituents; development and execution of events promoting the Naval Academy mission and message; collaboration with other Naval Academy-related organizations and affiliated groups; and membership growth. Distinguished Parent Clubs are evaluated on similar criteria with slightly different weighting: greater emphasis is placed on support for the Academy than the construction and activity of the leadership team, for example. 
The Award will be on display at our gatherings.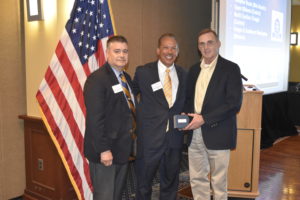 The June meeting will also represent the last time that John and Brenda Morris will be with us.  John and Brenda are relocating back to Maryland to be close to family.  John can also make use of his season tickets for Navy football.  As soon as we get their address we will make it available, so everyone will know of a place to visit when we go back to the Academy.
Plans are being put into place for our August Chapter Picnic.  The picnic will be held at a new location, the "Rose Arbor" on the Columbia River in the Port of Camas/Washougal. the Date Aug 4th Time 1200 to 4PM.  Many thanks to Susan Mead and Ray Kutch for their tireless efforts in setting this up.  A special thanks to Ray for donating the rental fee for the park.  Some specifics for the picnic are:
"My Friends & I" will be the caterer. The price will be $20 per adult, $10 for children 8-12 years and free for children under 8.  Council decided to cap any family cost at $60.  The caterer will provide Lemonade at no cost and will provide a server for alcoholic beverages.  Attendees may bring wine or beer if they desire but it will be given to the caterer for distribution.  People may also bring other non-alcoholic beverages.  People are encouraged to bring deserts
Payment will be made by the attendee prior to the event.  (This is important as we need to be able to give the caterer a fairly accurate head count).  To assist we are setting up for people to be able to pay on line using pay pal. People can also pay by cash/check. Payment will be refunded if the individual lets us know ahead of time that they will not attend.
The Picnic should be a fun get together at a kid friendly park with a wonderful view.  Please contact any alumni in the area who is either not active or is working and cannot usually attend our monthly events.
Mike Carmichael CDR USN Ret.
Update from PT 658
Posted: 6/6/2018
June 2018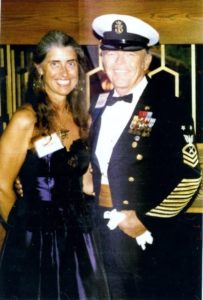 Dear Friends of PT 658,
We are excited that our friend and long-time docent, 93-year old WWII PT Boat Hero, Jack Duncan, will visit us this next week during Portland's Rose Festival Fleet Week!
Jack and Marlene are bringing with them a check for $1,000 to present to us on Friday, June 8, at 11:45am at the downtown seawall (just north of the Hawthorne Bridge) where PT 658 will be moored.
Because Jack is always thinking about our future, he hopes that you will join him in making a contribution to us. His goal is to challenge our other PT 658 friends to contribute to an important special project—to build a handicapped ramp from our brand-new gangway onto our service barge. The new gangway provides new and safe accessible passage to the boat, but not to the barge. Many of our visitors are older Veterans and we want to make sure that we provide improved access for them as well as for all guests who need assistance.
If you're in town, please stop by to thank Jack and Marlene for their service, and to join us next Friday for his check presentation. You can also send checks in Jack's honor to: Save the PT Boat, Inc., PO Box 13422, Portland, OR 97213, or go to our website and make an online contribution: www.savetheptboatinc.com.
Thanks for honoring Jack Duncan in this special way, and for supporting PT 658!
The Crew of PT 658
Navy Football Travel-Hawaii and Notre Dame in San Diego
Posted: 5/13/2018
Travel packages are selling fast for both the Navy–Hawaii game in Hawaii and also the Navy–Notre Dame game in San Diego. Book early so you don't miss out – game tickets are limited.
Navy – Hawaii
Honolulu, HI 
29 August – 2 September
Game Day – 1 September
Additional nights are available it you'd like to stay longer. Join us in Hawaii to cheer on Coach Niumatalolo and the football team as they battle the Hawaii Warriors! Take in breathtaking Oahu in all its splendor at the team hotel, the Waikiki Beach Marriott Resort & Spa, visit popular sites around the island and top off the trip with game day at Aloha Stadium. The tour includes four nights' accommodations, game ticket, Navy pregame tailgate, a Pearl Harbor tour and more!
Package and Booking information
Navy – Notre Dame
San Diego, CA
26-28 October
Game Day – 27 October
The Midshipmen head west to San Diego for the 2018 rivalry game against the Fighting Irish! Travel packages are now available that include discounted accommodations at the official Navy fan hotel in downtown San Diego, admission to the Navy Alumni Association Tailgate, game ticket upgrade option and more.
Package and booking information
May President's Update
Posted: 5/6/2018
Starting May 31 will be the annual All Academy challenge.  This is a fundraising event for the academy foundations.  Traditionally Navy has had the greatest dollar contribution but the least participation (a few give a lot).  The event will go for 5 days.  More information will be provided during the month.
Doug Ballard and I will be in Annapolis this week.  I will attend the International Chapter Officer Forum and Doug will be inducted as a trustee for the Academy Foundation.  We will report in June on what is going on at the Academy and the Foundation.
At our last meeting Tim Myers talked about the Veterans Appreciation Day at local high schools.  I attended the event at Glencoe High School last week.  I must report that it was one of the most rewarding experiences I have had in years.  Tim, John Adams and I were in attendance.  I would strongly encourage any alumni to attend these events.  If interested contact Tim (dudleyolive@comcast.net).  The next events are:
May 17 at Sunset High School
May 23 at Aloha High School.
Our annual Picnic will be held on August 4th at the Rose Arbor at the Port of Camas-Washougal.  More details will be forthcoming.  The event will be catered, and the facility is fabulous, with activities for family and children.  We will be looking for payment in advance as we need to be able to give the caterer a firm number of attendees.
Finally, I would like to thank Doug Ballard for a year of outstanding leadership.  His shoes will be hard to fill.
Mike Carmichael
Veteran's Lunches at Local High Schools
Posted: 4/15/2018
In the next month there are three high schools that are having a Veterans Celebration.
27 April / Friday /(0845-1500) / Glencoe High School
17 May / Thursday / (0845-1400) / Sunset High School
23 May / Wednesday / (0745-1430) / Aloha High School
There could be one or two more before the end of the school year.  The dress is strictly casual.  Lunch is provided by the school at no cost.  Some schools have an assembly to honor the Veterans.  Normally, veterans will be assigned a table in the Library/Media Center with six to eight seats.  Classes will come into the Library throughout the day and will be seated at the tables.  What you say to the kids is up to you.  On occasion, the teachers will have given the students questions.  What can you talk about:
Your time in the military with any particular events
Your life in high school and why you went into the military
Talk about the Academy / where it is / what it is / how you get in / etc
Talk about life after high school / things that affected you after college
Your life today and where you live and your Family
All of these things are of an interest to the kids.  There is no particular agenda.  It is a time of sharing your life with kids of today.  Every one of us had to study hard to get into the Academy.  Impress the kids just how important studying hard in high school is.  You will be surprised just how much they enjoy talking with you.   As Academy grads, we have something to share with every high school student.  Hope to see a few of you at the high schools.
For more information please contact Tim Myers '64 .